Product Name: Hot wire tester
Product Model: ZRS-2
Design Standards :
GB/T5169.10-2006 based test methods of glow-wire and glow-wire flammability test method for the finished product
The standard can be meet:
GB4706.1 EC60695 UL746A IEC829 DIN695 VDE0471
Brief Introduction :
we use the heating wire with Specific material(Ni80/Cr20) and specific shape to high current heated to burn the Sample from the vertical direction test in 30 seconds. Fire risk of products was determined by ignition conditions or holding burning time of sample and bedding material . The est result is accurate when test temperature (between 550 ℃ and 960 ℃)is reached after one minute .Also,The pressure of the burning need to be one newton .Application of the test products include and but not limited to solid insulating material and other solid combustible materials . The test data including GWIT and GWFI.
The environmental requirements :
1. Requirements about environmental temperature : -10℃~30℃
2. Relative humidity: ≤85%
3. Supply voltage and power:220V±10% , 50HZ , ≤500W
Characteristic :
1. Temperature of hot wire can be preset from 500℃ to 1000 ℃ and the error is 2 ℃ .
2. the burning time can be preset from 0 to 999.9 seconds and the often use time is 30 seconds.
3. time relay will be used to record the light-off time and fire out time between0to999.9S+0.1s automatically,in addition ,you can pause it manually .
4. Thermocouple :Armoured thermocouple from UK (type K) ,Φ0.5mm
5. the heating wire:Φ4 mm/ Nickel-chromium wire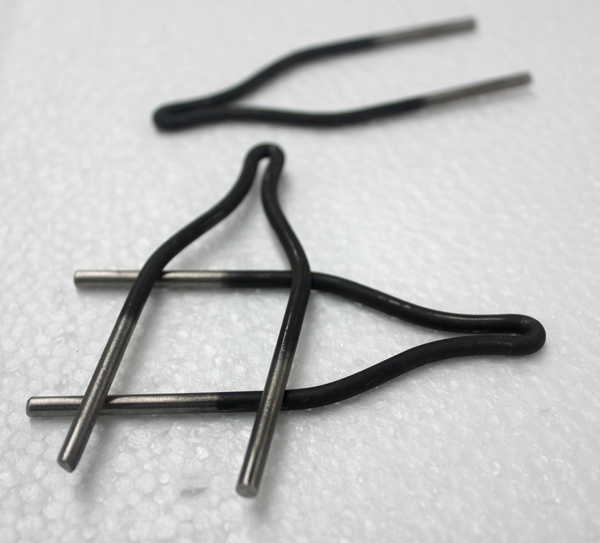 The above photo :the heating wire
6. The depth of the burning:7mm±0.5mm
7. Travel speed of sample:14mm/s
8. Using red line photoelectric stop switch, the limit is more accurate
9. SCR control thermostat system make temperature control more accurate
10. Time and temperature are digital display,both Observe and record are very convenient
11. The burning body is more than 0.5m³and it has a black background ,the background illumination must be 20Lux or less 。Moreover, we also have 0.75m³ burning body if it is in need .
12. The whole test process is automatically controlled and the ventilation system is independent
13. Dimensions: Width 1160mm × depth 600mm × height 1310mm (including foot)